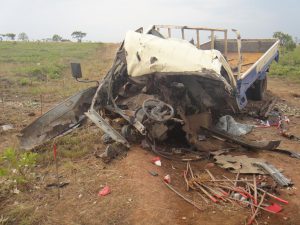 ANALYSIS Still legal, anti-vehicle mines constitute a major threat toward soldiers, civilians and human security. Ursign Hofmann at the Geneva International Centre for Humanitarian Demining (GICHD) and Emma Bjertén at Stockholm International Peace Research Institute (SIPRI) explain the issue and why there is a need for more research on the subject.
Three weeks ago, states and international organizations met in Genevea for a preparatory meeting of the Fifth Review Conference of the United Nations Convention on Certain Conventional Weapons  (CCW) to discuss the future response to anti-vehicle mines (AVMs). An AVM is a type of landmine designed to detonate by the presence, proximity or contact of a vehicle.
---
---
Unlike AVMs, anti-personnel mines (APMs) were outlawed in 1997 by the Anti–Personnel Mine Ban Convention. Human security concerns have outweighed the military value of APMs since the early 1990s, leading to this game-changing humanitarian disarmament instrument. AVMs are currently regulated but not prohibited. Limited technical restrictions to CCW Amended Protocol II added in 1996 still prevail. One such restriction is the prohibition of AVMs equipped with anti-handling devices, designed to detonate when the mines are removed. Visibly, AVM-related human security concerns have not yet outweighed the weapon's military applications. Despite many states supporting further mitigation measures, negotiations among states have failed since.
Today, the main issue with AVMs persists. As the ICRC noted, most AVMs do not distinguish between civilian and military vehicles. Therefore, AVMs call into question the basic rules of international humanitarian law.
Need for evidence
AVMs continue to threaten human security to the point that, in 2012, United Nations Secretary-General Ban Ki-Moon urged CCW High Contracting Parties to "continue to explore all possible avenues for ensuring that these weapons no longer harm civilians, impede the delivery of humanitarian aid or obstruct social and economic development." He specifically encouraged considering the views from the field.
As was the case for anti-personnel mines in the 1990s, there is now substantial evidence on the human security consequences of AVMs, which is critical to an informed political debate on further action among states. The Stockholm International Peace Research Institute (SIPRI) and the Geneva International Centre for Humanitarian Demining (GICHD) have partnered to generate quality data and analysis on the extent and nature of the human security threat posed by AVMs. This research has gained a high profile since 2014. Following a comprehensive study on the humanitarian and developmental impact of AVMs, both organizations monitor global AVM incidents on an interactive map and released a report mapping and analyzing AVM incidents in 2015.
What we know
In 2015, roughly 600 casualties were recorded in 25 countries and territories of which 60 per cent involved civilians. International and national security forces, including national military, police and border control personnel, accounted combined for less than one third. In 5 per cent, casualties were blue helmets, exclusively from the United Nations Multidimensional Integrated Stabilization Mission in Mali. The remaining casualties involved non-state armed groups or could not be disaggregated. SIPRI and GICHD noted an increase (9 percent) in recorded AVM incidents worldwide in the first half of 2016 compared to the same period of 2015, although casualty figures decreased by 38 percent.
There is often a misconception that AVMs are solely a legacy of past conflicts but our data shows the opposite. In 2015 and 2016, a majority of AVM casualties were recorded in current conflicts: two third occurred in Afghanistan, Mali, Syria, Yemen and particularly in Ukraine this year. The latter alone accounted for strikingly 37 per cent of all casualties, followed by Mali and Yemen (both 6 per cent).
This finding joins work from other humanitarian actors. Many international agencies and non-governmental organizations have meticulously documented the use of AVMs in Ukraine, Yemen or Syria, among others. In Libya or Mali, AVMs have become a weapon of choice for insurgents, including as charge for improvised explosive devices as was voiced at a recent expert meeting.
How AVMs impact development
In the 2014 study, SIPRI and GICHD demonstrated that AVMs hamper development. For example in Cambodia where traditional farming is becoming mechanized, farmers are increasingly vulnerable to AVMs. In 2015, 89 percent of AVM incidents in Cambodia involved tractors or heavy ploughs which triggered mines, frequently in areas in which non-mechanized farming had previously not revealed AVM contamination. In fact the number of recorded AVM incidents reflect the agricultural season with peaks in May and June and drops in early fall. The study also shows how fear of AVM presence prevents populations from using land productively as well as transport routes effectively.
Recognizing the significant impact of explosive legacies of war on development, Cambodia's Prime Minister Hun Sen announced that Cambodia will incorporate the clearance of landmine and unexploded ordnance as an additional goal to the Sustainable Development Goals.
Furthering evidence
It is important to consider the context specific nature of the humanitarian and developmental impact of AVMs. This data collection initiated by SIPRI and GICHD is a first step in analyzing the extent and geography of the humanitarian consequences of AVMs. Besides the tragic consequences of loss of life, our research indicates that it is important to study how AVMs impact socio-economic development: What are the lost benefits when farmers avoid effective agriculture methods due to actual or feared AVM contamination? What are the consequences when these weapons impede humanitarian aid? Systematic research on the impact of AVMs on the return of refugees and Internally Displaced Persons (IDPs), or on the risk of diversion from stockpiles would also enhance the understanding of the many humanitarian and security manifestations of the problem.
In December the CCW Fifth Review Conference will determine the future political pathway to address AVMs. On-going research will contribute to the evidence base on the human security impact of AVMs to inform this conference.
Ursign Hofmann
Policy Advisor at the Geneva International Centre for Humanitarian Demining (GICHD) conducting research on legal, policy and operational aspects of mine action in relation to broader human security issues.
Emma Bjertén
Research Assistant at Stockholm International Peace Research Institute (SIPRI) within the Peace and Development Programme. She holds a master degree in Politics and International Relations with a specialization in Peace and Conflict Studies from Uppsala University and is currently working on projects relating to gender, security and development.
Would you like to comment or discuss this post? Please contact the responsible editor. 
Responsible editor: Linn Hultqvist, editor Gender equality