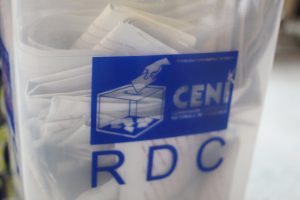 Joseph Kafuka skriver här om det politiska landskapet i Demokratiska Republiken Kongo (DRK) som är i ständig rörelse. År 2018 tvingades dåvarande presidenten Joseph Kabila att avstå från att ändra konstitutionen liksom att inte sätta in sin favorit som efterträdare. Det var den kongolesiska ungdomen, det civila samhället och den katolska kyrkan som ledde motståndet. Idag i ett läge av vare sig fred eller sociala framsteg ger ungdomar, som kämpar för ett demokratiskt och fredligt Kongo, hopp för framtiden. Medan de politiska partierna främst har ögonen riktade mot valen senare i år, där president Félix Tshisekedi satsar på omval.
 DR Congo, election year in a country in conflict
ANALYSIS The Congolese political landscape is in perpetual motion. In 2018, Joseph Kabila was forced not to change the constitution and not to impose his dauphin. Today, in a context of neither peace nor social progress, young people concerned about the pacification of the country, give hope. Meanwhile, the political parties set eyes on the upcoming elections in late 2023.
(French version below)
After the 2018 election, a brief alliance was forged between outgoing president Joseph Kabila and the new Félix Tshisekedi. The latter has since freed himself from this liaison, recruiting several pro-Kabila deputies and senators to form his parliamentary majority called Sacred Union for the Nation. It is this heterogeneous majority that dominates the current political scene. But a few months before the next electoral deadline, political alliances still have time to form or break up, especially since according to the Independent National Electoral Commission (CENI), the ballot may not be held within the deadlines set following persistent insecurity in the East of the country, delays in voter registration and financial constraints.
Initially, the promises of the new president were numerous, commensurate with the expectations of the Congolese. Return of peace, political relaxation and release of political prisoners, construction of roads, access to water, energy, health, education for all, good governance and fight against corruption. Tshisekedi announced a presidential pardon for all political prisoners and return of exiles utside the country.
But the results of his mandate appear rather meager, in particular due to the resumption of the war in the east. Tshisekedi had been applauded by declaring that he wanted justice administered by people of integrity, willing to fight against corruption. Unfortunately, political actors often stick to habits of predation and corruption that affect most infrastructure construction projects.
Added to this is the lack of control and the weakening of the judiciary, promoting widespread impunity. Félix Tshisekedi could pay for it in the next elections. Civil society activists and several political actors, after having alerted his attention, are now calling for a change of political leadership to build rule of law with real justice and a strong security system.
Announced candidates and possible surprise
The Congolese government plans to organize general elections end December. But CENI has  announced that the conflict in the East of the country could hamper voter registration and block the electoral process. Nevertheless, the approach of this critical point, has whetted appetites of political actors to position themselves.
The first to express his desire to run is president Félix Tshisekedi himself. Already in July 2021, he said he wanted to continue. "I have a vision for this country, and I want to see it come to fruition." Tshisekedi can count on many supporters, such as the current president of the Senate Modeste Bahati and surely also the president of the National Assembly, Christophe Mboso.
A major ally should be Vital Kamerhe, who returned to the Congolese political scene after legal problems. He should play a central role, especially in campaigning in the East of the country. Jean-Pierre Bemba, the president of the Congo Liberation Movement (MLC) should also line up among the supporters. He is constantly benevolent towards the head of state.
The former governor of Katanga, Moïse Katumbi, in December 2022, put an end to the suspense and formalized his candidacy for the presidential election. But he is struggling to display a coherent political line. Former prime minister Matata Ponyo created his own political party, despite legal troubles in an embezzlement case. They cast doubt on the validation of his candidacy.
The number one opponent of Félix Tshisekedi remains Martin Fayulu. The unfortunate candidate of 2018 intends to take revenge, and the deterioration of the security situation in the East underpin the positions he defends and could consolidate his popularity.
The great unknown is in the camp of ex-president Joseph Kabila, who is keeping a low profile, while the publicized outings of his wife are causing a lot of talk.
Will Denis Mukwege run for president?
The surprise could come from a personality from civil society, according to the wishes of a collective of Congolese intellectuals who want to see Denis Mukwege run for president. But the Nobel Peace Prize winner has not yet reacted to this idea in a context where the risk of a new pre-election crisis is real. In 2016, it was the catholic church that brought the protagonists to a table to sign an agreement and postpone the elections. Could it once again play this role?
Role of the catholic church and papal visit
With some 45 million believers, the catholic church in DR Congo is a heavyweight and a mediator. And it does not hesitate to swap this role for a political actor when for example  democratic principles are not respected. This political involvement makes the episcopate a powerful actor.
Since colonial times, the catholic church has played an important role in the construction of the country and it runs many schools and hospitals. An illustration of its influence, is the so-called New Year's Eve agreement in December 2016, signed by the political opposition and the government, which authorized the then president, Joseph Kabila (2001-2019), to remain, provided that elections were held before the end of 2017. This was not respected by the government, and on the initiative by the catholic church, large demonstrations were organized to demand the end of the mandate of Kabila. In December 2018, elections finally took place. Their results were initially contested by the church, which nevertheless ended up recognizing Félix Tshisekedi as the winner.
It is no coincidence that Pope Francis recently visited Kinshasa with regard to the influence of the catholic church. The Pope's speech did not disappoint the many Congolese followers. Pope Francis denounced the plundering of natural resources and castigated economic colonialism in a country where 70 percent of the population lives below the poverty line. "Remove your hands from DR Congo, stop suffocating Africa, it is not a mine to exploit, it is not a land to rob!" he said.
The East plagued by insecurity
With its area of 2,3 million km2 and nearly 100 million inhabitants, the DRC is the largest country in Sub-Saharan Africa. Its national institutions and decision-making bodies are located in Kinshasa, more than 2 000 kilometers from the eastern border, which is plagued by insecurity. There is a state vacuum in vast areas of the country favouring porous borders and the movement of armed groups.
For many years, reports from the UN Group of Experts have denounced the illegal trafficking of Congolese resources to neighbouring countries, notably Rwanda and Uganda, including criminal networks involved in the trafficking of coltan and gold from mining sites under occupation by armed groups. Also local organizations regularly report on incidents and the presence of armed groups. After the Rwandan genocide of 1994, eastern Congo has not had lasting peace, illustrating the chronic weakness of the state.
The DRC faces a double impasse: military with an under-equipped army unable to impose itself and a politico-diplomatic stalemate, since nothing comes out of the peace agreements at the sub-regional level The African Union summit in Addis Ababa in February 2023, called for a withdrawal of all armed groups and recommended a joint plan to de-escalate tensions and normalize relations between the DRC and Rwanda.
However, in spite of several calls for a ceasefire, fighting continues in eastern Congo, causing major population displacements and a risk of suffocation of the city of Goma, which for supplies depends on villages under the control of the M23 rebels supported by Rwanda.
Support to population but no solution
During his recent visit to Kinshasa, the French President promised 34 million euros for the 500 000 displaced people in North Kivu. The European Commission has announced a "humanitarian air bridge" to Goma and the EU 47 million euros for the affected populations. President Macron urged an end to the open looting of the country. But France along with other European countries waited until end 2022 to condemn Rwanda's support for the M23, while a UN report earlier had confirmed Kigali's involvement alongside these rebels. This is denied by Rwanda's president Paul Kagame, who has said that he refuses to be a scapegoat.
DR Congo hosts one of the largest UN peace missions in Africa. But with a weak DRC with complicated relations with some of its neighbours, the AU and the international community have failed to stop the looting and bring peace to millions of tormented Congolese.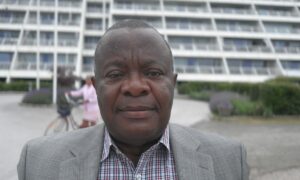 Joseph Kafuka
Born in the Democratic Republic of Congo, university studies in DRC and USA. Journalist and former correspondent of Radio France Internationale (RFI) in Kinshasa, contributor to the Magazine Jeune Afrique-Economie, founder of the network Congolese journalists against corruption. Teacher of French and researcher. Lives in Ängelholm.
Would you like to write an article responding to, discussing or criticizing this text? Contact the editor.
Editor: Carin Wall
RD Congo, année électorale dans un pays en conflit
Par Joseph Kafuka R.
Le paysage politique congolais est en perpétuel mouvement. En 2018, Joseph Kabila a été contraint de ne pas changer la constitution et de ne pas imposer son dauphin.  Aujourd'hui, dans un contexte de ni paix, ni progrès social, cette jeunesse préoccupée par la pacification du pays, donne de l'espoir. Pendant ce temps, les partis politiques ont plutôt les yeux tournés vers les prochaines élections.  
A l'issue du scrutin de 2018, une brève alliance s'est nouée entre le président sortant Joseph Kabila et le nouveau Félix Tshisekedi. Ce dernier s'est depuis lors émancipé de cette liaison, recrutant au passage plusieurs députés et sénateurs pro-Kabila pour se façonner sa majorité parlementaire dénommée Union sacrée pour la nation. C'est cette majorité "hétéroclite" qui domine la scène politique actuelle.  Mais à quelques mois de la prochaine échéance électorale, les alliances politiques ont encore le temps de se faire ou de se défaire, d'autant plus que selon des prévisions de la CENI (Commission Électorale Nationale Indépendente), le scrutin pourrait ne pas se tenir dans les délais fixés suite à l'insécurité persistante dans l'Est du pays, au retard dans l'enrôlement des électeurs et aux contraintes financières.
Au départ, les promesses du nouveau président étaient nombreuses, à la mesure des attentes des congolais. Retour de la paix, décrispation politique et libération de prisonniers politiques, construction de routes, accès à l'eau, à l'énergie, à la santé, l'éducation pour tous, la bonne gouvernance et la lutte contre la corruption.  Tshisekedi avait annoncé une mesure de grâce présidentielle en faveur de tous les prisonniers politiques et promis le retour des exilés résidant à l'extérieur du pays. 
Mais le bilan de son mandat finissant apparaît plutôt maigre, notamment à cause de la reprise de la guerre à l'Est. En plus, Tshisekedi avait été applaudi en déclarant vouloir "une justice administrée par des personnes intègres, disposées à lutter contre la corruption". Malheureusement, les acteurs politiques souvent continuent a pratiquer des schémas de prédation et de corruption qui par exemple affecte la plupart des projets de construction des infrastuctures.
A cela s'ajoutent le manque de contrôle et l'affaiblissement du pouvoir judiciaire, favorisant une impunité généralisée. Félix Tshisekedi pourrait en faire les frais lors des prochaines élections. Des militants de la société civile et plusieurs acteurs politiques, après avoir alerté son attention, appellent désormais à un changement de leadership politique pour construire un état de droit avec une vraie justice et un système de sécurité fort.
Candidats annoncés et possible surprise
Le gouvernement congolais prévoit d'organiser des élections générales fin décembre. Mais la CENI a annoncé que le conflit dans l'Est du pays pourrait entraver l'inscription des électeurs et bloquer le processus électoral. Néanmoins, l'approche de ce point critique, a aiguisé les appétits des acteurs politiques pour se positionner.
Le premier à exprimer sa volonté de se présenter est le président Félix Tshisekedi lui-même. Déjà en juillet 2021, il disait vouloir continuer. "J'ai une vision pour ce pays et je veux la voir se concrétiser." Tshisekedi peut compter sur de nombreux soutiens, comme celui de l'actuel président du Sénat Modeste Bahati et sûrement aussi le président de l'Assemblée nationale, Christophe Mboso.
Un allié majeur devrait être Vital Kamerhe, revenu sur la scène politique congolaise après des ennuis judiciaires. Il devrait jouer un rôle central, notamment en faisant campagne dans l'Est du pays. Jean-Pierre Bemba, le président du Mouvement de libération du Congo (MLC) devrait également s'aligner parmi les partisans. Il est constamment bienveillant envers le chef de l'Etat.
L'ancien gouverneur du Katanga, Moïse Katumbi en décembre 2022 a mis fin au suspense et officialisé sa candidature à l'élection présidentielle. Mais il peine à afficher une ligne politique cohérente. L'ancien premier ministre Matata Ponyo a créé son propre parti politique, malgré des ennuis judiciaires dans une affaire de détournement de fonds qui jette le doute sur la validation de sa candidature.
L'adversaire numéro un à Félix Tshisekedi reste Martin Fayulu. Le candidat malheureux de 2018 entend prendre sa revanche. La dégradation de la situation sécuritaire à l'Est du pays conforte les positions qu'il défend et pourrait boster sa popularité.
La grande inconnue est dans le camp de l'ex-président Joseph Kabila, qui fait profil bas, alors que les sorties médiatisées de son épouse font beaucoup parler.
Denis Mukwege – une candidature de la société civile?
La surprise pourrait venir d'une personnalité de la société civile, selon le vœu d'un collectif d'intellectuels congolais qui souhaitent voir Denis Mukwege briguer la présidence. Mais le prix Nobel de la paix n'a pas encore réagi à cette idée dans un contexte où le risque d'un retour à une crise pré-électorale est réel. En 2016, c'est l'église catholique qui a réuni les protagonistes autour d'une table pour signer un accord et reporter les élections. Pourrait-elle encore jouer ce meme rôle ?
Rôle de l'Église catholique en marge de la visite papale
Avec quelque 45 millions de fidèles, l'Église catholique en RD Congo est un poids lourd et un médiateur. Et souvent elle n'hésite pas à troquer ce rôle pour celui d'acteur politique lorsque par exemple les principes démocratiques ne sont pas respectés. Cette implication politique fait de l'épiscopat un acteur puissant.
Depuis l'époque coloniale, l'église catholique a joué un rôle important dans la construction du pays et elle gère de nombreuses écoles et hôpitaux. Illustration de son influence, l'accord dit de la Saint-Sylvestre en décembre 2016, signé par l'opposition politique et le gouvernement, qui autorisait le président de l'époque, Joseph Kabila (2001-2019), à rester à condition que des élections aient lieu avant fin 2017. Cela n'a pas été respecté par le gouvernement, et à l'initiative de l'église catholique, de grandes manifestations ont été organisées pour exiger la fin du mandat de Kabila. En décembre 2018, les élections ont finalement eu lieu. Leurs résultats ont d'abord été contestés par l'église, qui a néanmoins fini par reconnaître Félix Tshisekedi comme vainqueur.
Ce n'est pas un hasard si le pape François s'est récemment rendu à Kinshasa en ce qui concerne l'influence de l'église catholique. Le discours du Pape n'a pas déçu les nombreux adeptes congolais. Le pape François a dénoncé le pillage des ressources naturelles et fustigé le colonialisme économique dans un pays où 70 percent de la population vit en dessous du seuil de pauvreté. «Enlevez vos mains de la RD Congo, arrêtez d'étouffer l'Afrique, ce n'est pas une mine à exploiter, ce n'est pas une terre à piller! a-t-il déclaré.
L'Est de la RDC en proie à l'insécurité
Avec sa superficie de 2,3 millions de km2 et près de 100 millions d'habitants, la RDC est le plus grand pays d'Afrique subsaharienne. Ses institutions nationales et ses organes de décision sont situés à Kinshasa, à plus de 2 000 kilomètres de la frontière orientale, en proie à l'insécurité. Il y a un vide étatique dans de vastes régions du pays favorisant la porosité des frontières et la circulation des groupes armés.
Depuis de nombreuses années, les rapports du Groupe d'experts de l'ONU dénoncent le trafic illégal des ressources congolaises vers les pays voisins, notamment le Rwanda et l'Ouganda, y compris les réseaux criminels impliqués dans le trafic de coltan et d'or à partir de sites miniers occupés par des groupes armés. Des organisations locales signalent également régulièrement des incidents et la présence de groupes armés. Après le génocide rwandais de 1994, l'est du Congo n'a pas connu de paix durable, illustrant la faiblesse chronique de l'État.
La RDC fait face à une double impasse: militaire avec une armée sous-équipée incapable de s'imposer et une impasse politico-diplomatique, puisque rien ne sort des accords de paix au niveau sous-régional. Le sommet de l'Union africaine à Addis-Abeba en février 2023, a appelé au retrait de tous les groupes armés et a recommandé un plan conjoint pour désamorcer les tensions et normaliser les relations entre la RDC et le Rwanda.
Cependant, malgré plusieurs appels au cessez-le-feu, les combats se poursuivent dans l'est du Congo, provoquant d'importants déplacements des populations et un risque d'asphyxie de la ville de Goma qui, pour son ravitaillement, dépend de villages contrôlés par les rebelles du M23 soutenus par le Rwanda.
Soutien à la population mais pas de solution
Lors de sa récente visite à Kinshasa, le président français a promis 34 millions d'euros pour les 500 000 déplacés du Nord-Kivu. La Commission européenne a annoncé un "pont aérien humanitaire" vers Goma et l'UE de 47 millions d'euros pour les populations sinistrées. Le président Macron a exhorté à mettre fin au pillage ouvert du pays. Mais la France, comme d'autres pays européens, a attendu fin 2022 pour condamner le soutien du Rwanda au M23, alors qu'un rapport de l'ONU avait précédemment confirmé l'implication de Kigali aux côtés de ces rebelles, ce que dément le président rwandais Paul Kagame, qui a affirmé refuser d'être un bouc émissaire.
La RD Congo accueille l'une des plus grandes missions de paix de l'ONU en Afrique. Mais avec une RDC faible et des relations compliquées avec certains de ses voisins, l'UA et la communauté internationale n'ont pas réussi à arrêter les pillages et à apporter la paix à des millions de Congolais tourmentés.