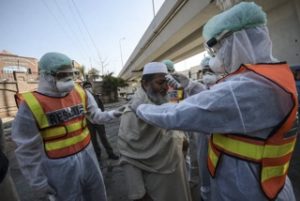 Det omfattande utbrottet av coronavirus i Iran har förvärrats av befolkningens misstro mot landets myndigheter, skriver den iranske journalisten "Nazer", som av säkerhetsskäl skriver under pseudonym.
Den traditionella misstron mot myndigheterna har förstärkts av regimens inledande lögner kring nedskjutningen av ett ukrainskt passagerarplan i januari. Det ledde till att många iranier inledningsvis struntade i myndigheternas uppmaningar att stanna hemma på grund av smittorisken.
Det sjunkande oljepriset och de amerikanska sanktionerna har förvärrat Irans ekonomiska kris, vilket bland annat drabbat sjukvårdssystemet i detta kritiska läge. De iranska ledarna har spätt på osäkerheten genom att, precis som Kina, anklaga USA för att ligga bakom coronasmittan.
Samtidigt har flera högt uppsatta amerikanska militärer uttryckt oro för att coronakrisen kan förstärka Irans militära hot mot USA. Men den amerikanska militärledningen har avvisat förslag om ett kraftfullt militärt angrepp och pekat på risken att det kan leda till ett omfattande krig.
Den iranska allmänhetens misstro mot myndigheterna har lett till en omfattande ryktesspridning i sociala medier, och många söker efter mer trovärdig information från utländska medier och oppositionskällor.
Artikeln baseras på allmänt tilllgängliga nyhetsrapporter, bl a från AP, Reuters, Bloomberg och New York Times.
ANALYSIS Iran, fighting the worst coronavirus outbreak in the Middle East, has started the Iranian new year with its COVID-19 crisis worsened by devastating U.S. sanctions and a crisis of public confidence in the government.
Widespread distrust has led to lukewarm public response to directives by health authorities, with officials complaining that many Iranians continue to frequent public places and leave on holiday trips despite calls for them to stay home.
With 23,049  confirmed cases of the new coronavirus and 1,812  reported deaths according to official figures released on March 23, authorities have ordered curbs on travel but stopped short of imposing lockdowns.
Traditional suspicion against the state was heightened in November by the officials' refusal to account for the high number of demonstrators killed or arrested after nationwide street protests against fuel price hikes in November turned political.
Suspicion worsened by lies about plane crash
The suspicion was worsened after authorities insisted for days that the crash of a Ukrainian airliner in Tehran that killed all 176 on board was due to engine trouble, before admitting that the Revolutionary Guards had shot the plane down after mistaking it for a U.S. drone.
The catastrophe occurred as the Guards were on alert for a U.S. retaliation following an Iranian missile attack on a U.S. base in Iraq in revenge for the killing of a top Iranian general.
Officials say they promptly publicized the first cases of coronavirus infection, but critics and ordinary Iranians accuse authorities on social media of delaying announcements to keep attendance high in mass demonstrations marking the 41st anniversary of Iran's 1979 Islamic Revolution, followed by parliamentary elections in which authorities sought to boost turnout.
But now, state television has warned that the virus could kill "millions" and Iran's supreme leader Ayatollah Ali Khamenei has issued a religious order banning "unnecessary travel".
The elite Revolutionary Guards have been mobilized to fight the coronavirus outbreak, in a move seen as a chance for them to save face after their blunder in shooting a passenger plane.
Distrust boosts rumours on social media
But the distrust has helped boost an active social media rumor mill which authorities blame on exiled opposition groups, with warnings of catastrophic developments in the spread of the coronavirus. Meanwhile, Iranian media regularly reports arrests of people accused of "spreading lies" online.
"Coronavirus: Misinformation and false medical advice spreads in Iran," the BBC said in a report, confirming that a letter of resignation by the health minister due to his  ministry's "inability to manage" the outbreak was a fabrication.
While the consumption of alcohol is banned under Iran's Islamic rules, hundreds have been poisoned and some 200 killed after consuming methanol or moonshine alcohol after rumors spread that alcohol would help against COVID-19. A viral video shows relatives encouraging a elderly woman to finish a shot!
In some areas, alcohol poisoning killed more people than the corona virus, a deputy health minister said.
Fall in oil prices hits Iran's fragile economy
To make matters worse, the economy is hit by a historic fall in international crude oil prices to below $30 per barrel while Iran's budget is based on earning at least $50 per barrel.
This has led to urgent appeals by Iranian leaders for the United States to lift its sanctions which ban the sale of Iranian oil, the country's main source of hard currency, and block banking transactions needed for the purchase of medicine and equipment to fight the coronavirus outbreak.
While U.S. officials including Secretary of State Mike Pompeo have said the sanctions do not hamper the flow of humanitarian aid, Iranian officials and some ordinary Iranians say that restrictions on banking contacts make it impossible to send medicine or equipment.
On March 21, Tweeter user @Yousefsadat said GoFundMe had shut down his campaign to raise aid for the Iranians affected by COVID-19 "due to sanctions".
"The size of the COVID-19 epidemic in Iran is particularly worrying," Medical charity MSF said on Sunday, adding that it was setting up a 50-bed emergency center to treat severe cases in the country.
In October, long before the coronavirus outbreak, Human Rights Watch said that U.S. economic sanctions had harmed Iranians' right to health.
Iran suspects American conspiracy
On March 22, supreme leader Khamenei displayed Iran's deep distrust of the United States, rejecting any assistance from Washington, and citing a conspiracy theory that the Americans may be behind the outbreak of the virus.
"I don't know how real this accusation is but when it exists, who in their right mind would trust you to bring them medicine?" Khamenei said. "Maybe your medicine is a way to spread the virus further."
Khamenei's comments come after a Chinese government spokesman tweeted earlier this month that it "might be US army who brought the epidemic to Wuhan", referring to the Chinese city where the first cases of coronavirus were detected. The U.S. State Department summoned China's ambassador to protest.
Khamenei appeared to signal that the COVID-19 crisis was unlikely to help soften Iran's stand towards its arch-enemy, the United States.
US fears that Corona crisis can make Iran more dangerous
Earlier this month a senior U.S. military commander also said that the COVID-19 crisis has increased pressures on Iran, and that may make it more of a military threat to the U.S. through its proxy forces in the Middle East.
"They are fractured now, and they're having difficulty dealing with a number of things," General Kenneth McKenzie, head of U.S. Central Command, told a Senate Armed Services. "I think it probably makes them in terms of decision-making more dangerous rather than less dangerous."
Meanwhile, the New York Times reported that there were sharp debates among top U.S. administration aides on how to confront Iran and its Shi'ite militia proxies in Iraq, with Pompeo and others arguing that taking tough action while Iran's leaders were battling the coronavirus  could finally push them into direct negotiations.
But Defense Secretary Mark T. Esper and Gen. Mark A. Milley, the chairman of the Joint Chiefs of Staff, pushed back, warning that a large-scale response could draw the United States into a wider war with Iran and rupture already strained relations with Iraq, the NYT said.
Distrustful Iranians seek alternative information
While Iran's health ministry has said that one person dies from coronavirus every 10 minutes in the  country, many distrust official figures and turn to overseas media and opposition sources for information.
The U.S.-funded Radio Farda saying on march 21 that more than 47,000 coronavirus patients were hospitalized in Iran and that 2,216 had died.
The exiled opposition People's Mojahedin group said the death toll had exceeded 8,800 on March 21.
As more Iranians seem to be self-isolating, many have kept their sense of humor during these darks days.
Twitter user @abaz_ghorbani, an economics doctoral student, posted a video showing a tank aiming its cannon at a man leaving his home, adding the comment: "The only way to force an Iranian to stay home."
A young woman using the handle @La__Noyee wrote: "When this quarantine is over, I'll marry the first man I see."
Nazer
Artikelförfattaren Nazer, en iransk journalist i Dubai, vill av säkerhetsskäl inte framträda under sitt riktiga namn.
Vill du skriva en text där du kommenterar, diskuterar eller kritiserar detta inlägg? Kontakta ämnesansvarig redaktör.
Redaktör: Lotta Schüllerqvist, chefredaktör, Press- och yttrandefrihet, Mellanöstern.